*** out of ****
A baby's cry – no, a baby's scream – is quite possibly one of the most annoying sounds known to mankind; this is something that both writer-director Paul Solet and his debut feature "Grace" know very well. In a cinematic legacy of children from hell and toddlers from beyond the grave; here's an artful horror flick where the child is not from hell, nor is it undead. No, it's a normal baby; just with some ugly, gruesome peculiarities. That is what makes it a horror film in the first place; because a baby is a baby, but a baby that vomits blood and loses all its hair at the mere gentle touch of a brush is something else, and signifies a young child that might break instead of bounce if one were to drop it.
The parent of this child is Madeline (Jordan Ladd). She's tried getting pregnant a few times, but one time while she is engaged in sexual intercourse with her husband Michael, things seem to work out for once. A few seconds later and bang, Madeline is pregnant, and she's living the vegan life. Michael's mother Vivian (Gabrielle Rose) does not approve of the foods that Madeline is indulging in; nor does she approve in her choice of doctors. Instead, she recommends one that she trusts quite a bit; only to have her suggestions rejected by both members of the couple. Their choice is to go to a birthing clinic; where they meet the kindly woman who runs it, Dr. Patricia Lang (Samantha Ferris). They seem to like her; and she seems to like them. But that won't get the baby born. It's only a matter of time now.
Indeed, it is. Madeline suddenly feels increasing pain in her chest area one night, and has to be rushed to the hospital shortly thereafter. It is there that Patricia prevents the doctors from beginning the labor process; as they intended to. So Michael and Madeline drive home the next night, their child still with them. But then, a fatal car crash changes everything; killing Michael, killing the baby, and leaving Madeline alive. It is then that she refers to Patricia and the clinic for further help; delivering her unborn child and miraculously nursing it (her) back to health, and naming the child Grace.
Was it a miracle – a blessing – or was it a bad omen for things to come? The child seems pretty alright at first; although it doesn't take much time for the strange stuff to start happening. The flies seem to like it around the baby's crib, and the kid doesn't appear to want to drink her milk. At least not from the bottle. She'll take it from mommy's breast; but then again, it's soon revealed that what she's taking in is not milk at all, but rather blood, and it would certainly appear that this is her preferred beverage, contrary to the conventional baby foods and needs. So it's kind of like "Hellraiser", but with a screaming baby. A screaming baby that upchucks half the blood that it absorbs, develops odd and painful looking rashes all around its little body, and looks consistently sick enough to die just about any minute. But then again, Madeline doesn't look much better either.
That makes sense, though; she's succumbed to depression. She's just lost her husband, and his mother won't get off her back about the baby and other unnecessary bullshit, and the baby is a loud and prevalent whiner. If "Grace" can't create great and memorable characters; it can certainly create a situation that's real and unnerving enough for us to sympathize for what they're being forced to endure. The film shifts rather abruptly from a sweet little mother-daughter relationship to a disturbing infectious horror-thriller in what feels like a blink of an eye. That probably won't sit well with a lot of people, but if you're looking for a genre picture that's a little less conventional than the rest, I think this will do. It's different, it's disturbing and best of all, it's believable. The acting is solid enough, and the direction was taut enough, for me to buy into the situation and its many horrors. There isn't necessarily a hint of greatness at any point in the movie; but if Solet can make stuff like cat food disgusting and distressing, I'd say he's a new-found talent.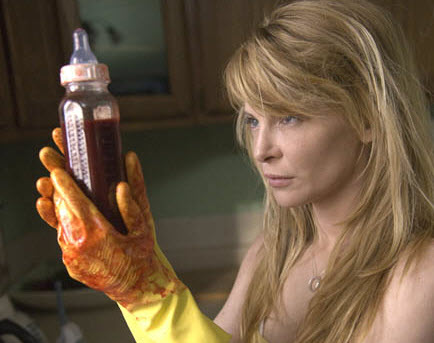 I understand why the film will be criticized by a lot of people. If you do not care about the characters, then you cannot care about their problems; that is an age-old theory, and let's not treat "Grace" as if it's any exception, because it's not. I admired the film because it has a simple aim – to make the audience feel uncomfortable and disturbed – and in my mind, that's just what it does. As an avid horror fan, I was quite surprised by how down-right nasty and gross some of the scenes were; particularly a few that came around near the end. Now, that isn't always a compliment; but it is in this case. "Grace" is by no means an entertaining film, but it is one that I just couldn't look away from; I blame the damn baby screams.