Half a star (1/2) out of ****
The William Friedkin-directed film adaptation of William Peter Blatty's acclaimed horror novel "The Exorcist" shocked audiences all over the world like they had never been shocked before in the year of 1973. Never before had anyone seen such sensational special effects and – for those who haven't yet looked overseas towards the wonders of foreign horror – gross singular scenarios. People loved this film and it still holds up today (perhaps better than ever, since we can now strip away the effects and study the film's bare essentials). Four years after its release, they decided to make a sequel; you know, just because they could. "The Exorcist II: The Heretic" exists when nobody actually cared whether a sequel to "The Exorcist" was made or not. It felt as if everything was reasonably resolved by the end, and the major themes came full circle; so why do we need a continuation of this story? Well, we don't; making "Exorcist II" probably the most pointless sequel in the history of movie sequels or maybe just the history of anything. The icing on the cake is that it's not just pointless; it is absolutely, undeniably one of the worst movies ever made.
Four years after she was possessed by the demon Pazuzu in the comfort of her own Washington home and in the company of her loving mother and two priests (one young, one old); Regan MacNeil (Linda Blair) seems surprisingly normal given all the things she's been through. Since "The Exorcist", her parents have divorced and she's now living with her guardian in New York City, and she's also seeing a psychologist in an institution that worries for her (although it's good enough that Regan doesn't have to stay in the building). She claims to only remember the events of that one night in D.C. through dreams - or nightmares – and the little details in-between that somehow did not escape her. She cannot, however, remember the exorcism that took place in her very own bedroom. To see if her memories of that night can be recovered; the psychiatrist hooks both Regan and herself up to a device called the Synchronizer, which as one would expect synchronizes the brainwaves.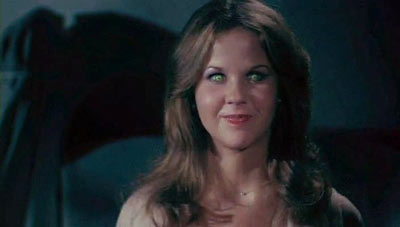 Meanwhile, a priest facing a crisis of faith (Richard Burton) is asked by the Cardinal to investigate the death of Father Merrin (Max Von Sydow, who appears in flashbacks). This of course leads him to Regan, and he partakes in the session involving the synchronizer. He then becomes increasingly more involved in her life; believing that Pazuzu still exists somewhere deep down inside Regan's soul, even though it was assumed that the demon was passed down to Father Karras' body in the first film when it was the cause of his eventual death (which could be ruled as suicide, depending on how you look at it). Here, Pazuzu comes in all forms; including a swarm of locusts that attacks Africans. Oh, how fun! This relates to the priest's own journey to Africa; where all shall be revealed, or something like that.
Blatty himself saw the film in the theater when it was out and said he was the first person to laugh out loud in the cinema while watching it (the rest of the audience joined in soon thereafter). It is a movie of unintentional laughs and giggles; although one of no pleasures whatsoever. Some films are bad and some are so bad they're good. "The Exorcist II" is not fun in any way shape or form, and believe me when I say that you don't want to waste your precious little fucking time watching it. Indeed, some things – like a guy dressed up like an actual lotus and some cheesy flashback sequences – are amusing at best and flamboyantly silly (although perhaps unintentionally), but does that equate to a good time? It might in another film. But in this one, no way. Is it worth sitting through nearly two hours of terrible "demonic" music (somehow courtesy of the usually great Ennio Morricone), mediocre camerawork, a complete lack of convincing atmosphere or directorial style, and bland-ass performances just to get a few noteworthy chuckles? You tell me. But from what I gather, "The Exorcist II" isn't even lucky enough to be dubbed one of those "best-worst movies".
Probably the most tragic aspect of this whole thing is that it was directed by John Boorman. Yes, THAT John Boorman. The same exact guy who made "Deliverance" – considered a classic survival thriller and the quintessential backwoods inbred flick – just five years earlier. Strange how directors can go from something awesome to something as god-awful as this. Well, thanks John Boorman; I will never forget your shit-storm of a movie. Not only because there is literally nothing good to say about it, but also because it's the terrible sequel to one of my favorite films of all time, period (and also my favorite horror film). At this very moment, I wish I could unsee the suck; but I can't. And just for that, I hope Boorman gets raped up the ass with a wooden crucifix. But if you like pretentious, boring, excessively overlong and legitimately mentally deficient horror movies; this might just be your thing.